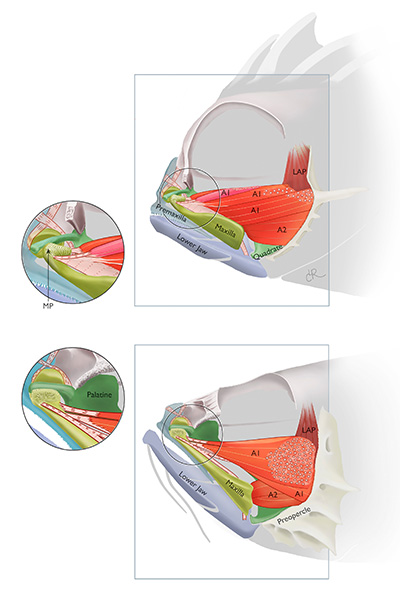 A favorite project featuring these anatomical illustrations of fish cheeks was published in January 2018; one of these illustrations was chosen for the cover of the printed publication.
Smith, W.L., Elizabeth Everman and Clara Richardson. Phylogeny and Taxonomy of Flatheads, Scorpionfishes, Sea Robins, and Stonefishes (Percomorpha: Scorpaeniformes) and the Evolution of the Lachrymal Saber. Copeia 106(1):94-119. 2018
https://doi.org/10.1643/CG-17-669
The anatomical research proceeded by drawing what I could see, consulting with Dr. Smith who would then do a new dissection, I would modify the drawings, we would consult again and so on. In this way our understanding grew, shape by shape.
The dorsal images are part of Visualize: Art Revealing Science, an exhibit at The American Association for the Advancement of Science, open July 16-October 15, 2018:
https://www.aaas.org/event/visualize-art-revealing-science